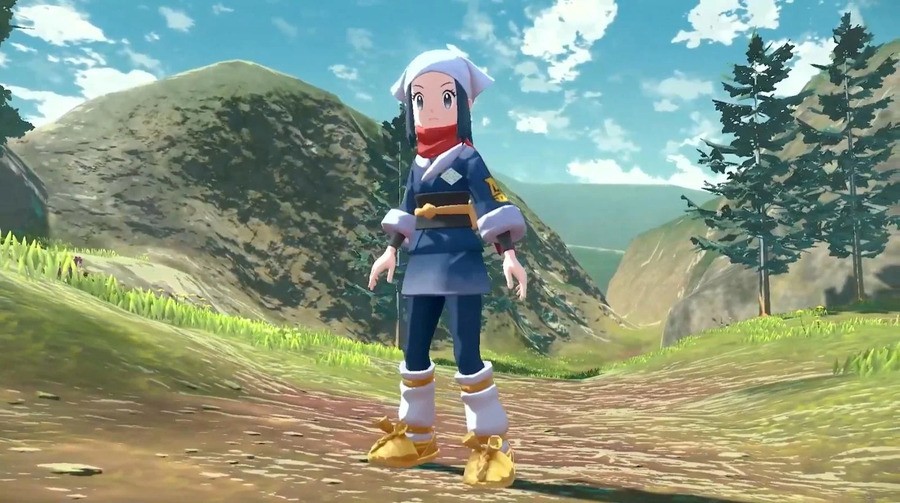 With just a week left to go before Pokémon Legends: Arceus launches on Nintendo Switch, Japanese media have had the opportunity to go hands-on with the game. We'll still have to wait a little while before full reviews are shared online, but these early impressions are certainly sounding promising.
Famitsu highlighted the game's new take on the series' usual formula, saying that it is "completely different" from previous games. In comments compiled and translated by VGC, the publication described the game as "exhilarating":
"It's safe to say that this game is completely different from previous titles. The first thing that impressed me when I started playing was the exhilarating feeling of moving around freely in the vast field…

It feels great just to be able to fly freely in the sky, but it's especially fun to look for Pokémon that look small below you."
The same report discusses a boss battle against a brand new Pokémon, Kleavor. Famitsu describes that battle, which has players attempting to hit the Pokémon with food to calm it down, as 'surprisingly difficult for a Pokémon game', albeit not so hard that it felt impossible.
The game has also been praised by 4Gamer. The outlet spoke of the game's adaptive nature, whereby different Pokémon can appear at different times of day and come with their own personalities. Here are some of those comments, again translated by VGC:
"The Pokémon that appear in the game seem to change depending on the time in the game, and at night we saw Drifloon and other Pokémon. One thing that struck me was that Drifloon was very belligerent and attacked as soon as it noticed us. Even if we weren't engaged in a Pokémon battle, they would charge at the main character without mercy.

You get the feeling this was the way things were before Pokémon and humans got along."
4Gamer also felt that the game "portrayed a Pokémon-inhabited world more realistically, as you can throw a Pokéball and start a battle seamlessly, or you can devise ways to catch Pokémon without battling."
Pokémon Legends: Arceus launches for Nintendo Switch on 28th January. Pre-orders are available here if you're interested, and we'll make sure to share our full review of the game with you at a later date. Stay tuned!